Sales: 1-800-315-3302
Support: 1-352-372-9902
Rokland
The n3: 802.11n Wireless-N Long Range WiFi USB for Macs & PCs
The n3 is an Apple Mac compatible 802.11n long range Wi-Fi USB adapter for Apple Mac OS with speeds up to 150 mbps.

Introducing the n3 from Rokland Technologies. Where inner beauty meets outer beauty.

Rarely does a wireless device come along that has everything. Power, range, and compatibility. Now imagine a device with all these things that has another important trait- looks. Yesterday's computing devices were purely about functionality. Remember those huge beige boxes? Today design matters. Design can embolden, it can inspire, it can impress. Functionality is a core fundamental of any good product, but looks are just as important.

An 802.11n standard wireless USB adapter, the n3 is where design and functionality meet. Whether you are a Mac or a PC, have a desktop, laptop, or a netbook, whether you are trying to pick up a signal from across the room or across the street, the n3 does everything you need and does it in style.

Compatible with Mac OS 10.3, 10.4, 10.5, 10.6, 10.7, 10.8, and 10.9 Mavericks
**Not compatible with 10.10 Yosemite**

Compatible with Microsoft Windows XP, Vista, Windows 7, and Windows 8/8.1

- 700mW max out put power with advanced receive sensitivity that outperforms many 1000mW products
- Detachable clip for easy attachment to the back of your laptop LCD
- Compatible with WEP, WPA, WPA2 personal, and WPS (WiFi Protected Setup) encryption
- RP-SMA external antenna hookup- use it with the factory 2 dBi antenna, upgrade the antenna, or use it with any RP-SMA antenna you already own, such as a cantenna or yagi antenna
- With TX and RX speeds up to 150 megabits per second, the n3 is almost three times faster than conventional wireless products like the Airport Extreme, Wireless-G products from Netgear, Belkin, and D-Link, and over 10 times faster than the original Airport card
- Backward compatible with 802.11g and 802.11b WiFi standards
- The n3 has a polished reflective outer surface which complements many of today's laptops and netbooks that have similar surfaces
- USB 2.0 and 1.1 compliant
- Included in the box is the adapter, a 2 dBi gain antenna, driver CD, and a USB cable

Apple Macintosh compatibility:

The n3 works with Macs running OS version 10.3 through 10.8. Included in the shipment is a CD which has PC and Mac software, as well as the instructions to install this device on your PC or Mac. We are able to offer support on both Windows and Mac systems, so please contact us for help should you need it.

The n3 is a popular choice among RV parks nationwide due to it's exceptionally long range and full compatibility with Mac OS and Windows.
State sales tax of 6% will be added to FLORIDA purchases only. There is no sales tax for any other state.

Return Policy: If you have received an item that is not as described, not working, or you are not satisfied with it for any reason, you may return it for an exchange or refund at your discretion within 30 days of receipt. Because range can very greatly based on your environment, if you are not sure a particular product will meet your range needs please contact us before buying. As we are a business, we are not able to offer free product trials, and thus if a purchased product does not meet your range needs and you wish to return it, a 10% restocking fee will apply. The only exception will be if the item is defective. Please note that shipping charges paid, including return shipping, are never refundable. If you opt for an exchange, we will pay to ship the replacement to you. Items must be returned the way they were received, with all pieces, documentation, and retail packaging (if applicable) included.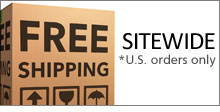 Categories
Vendors
Top 5 Alfa Adapters